Video library
Welcome & Introduction
Simon McGough
00:02:23
A New Chapter for Wood
Ken Gilmartin
00:24:31
Markets & Growth
Jennifer Richmond
00:20:04
Consulting
Azad Hessamodini
00:17:51
Projects
Mike Collins
00:18:22
Operation
Craig Shanaghey
00:24:36
Financial Framework
David Kemp
00:17:10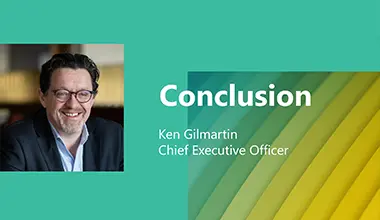 Conclusion
Ken Gilmartin
00:01:55
Q&A
00:29:51
Simon joined Wood as President, Investor Relations in December 2021. Simon has worked across industries including telecoms, chemicals, business services and aerospace & defence, and joined Wood from Babcock International where he was Director of Investor Relations. Before that, Simon was Head of Investor Relations at Johnson Matthey, and worked in investor relations, finance and strategy at Vodafone. He is a Chartered accountant.
Jennifer has over 20 years' experience in delivering best-in-class solutions for clients, leading transformational programmes and identifying strategic growth areas.
In her role, she holds executive responsibility for Wood's growth through strategic planning, business development, mergers and acquisitions, and marketing and communications.
Before joining Wood, Jennifer worked at Jacobs where she held a variety of leadership roles including Senior Vice President of Sales for the Federal and Environmental Solutions business.
Before that, she served as Senior Vice President for the Advancing National Security and Defence business where she led a worldwide team of 5000 people delivering mission-critical solutions to the U.S. Department of Defence and other government clients.
Jennifer lives near Washington DC, US.
Mike has over 30 years of experience including 23 years within Wood, where he has held various senior leadership positions managing capital projects and operations delivery. He has also held key functional roles leading project delivery assurance and major integration programmes.
In his career at Wood, Mike has worked and lived in several geographical locations including Asia, Australia, the Middle East, China, Africa and Europe. He considers it a privilege to have worked in such diverse cultural environments and leverages this experience in driving the success of Wood's Projects business globally. Prior to his current role, Mike was President of Wood's Capital Projects business for Europe, Africa, Australia and Asia.
Mike holds a master's degree in business administration (MBA) and is a qualified mechanical engineer. He lives in the UK with his wife and three children.
David is chief financial officer (CFO) of Wood. Formerly CFO of Wood Group from May 2015, he joined Wood Group in 2013 as CFO of its Wood Group PSN business, and was responsible for aspects of finance and administration, IT, real estate, and legal services.
David has more than 20 years' experience in the oil & gas sector and prior to joining Wood Group, held executive roles at Trap Oil Group, Technip, Simmons and Company International, and Hess Corporation, working across finance, mergers & acquisitions and operations. David is a member of the Institute of Chartered Accountants and holds an honours degree in accountancy.
Ken Gilmartin is chief executive officer (CEO) of Wood and an executive member of its Board of Directors. He was appointed as CEO of Wood in July 2022, having joined the company in September 2021 to take on the role of Chief Operating Officer.
Ken is focused on building on the company's strong foundations to capture growth opportunities in energy security and sustainability, and deliver value for shareholders over the medium term.
Before joining Wood, Ken spent 15 years at Jacobs where he held a variety of operational and project leadership roles including Executive Vice President of the People & Places solutions business where he held operational responsibility for more than half of Jacobs' overall business portfolio. Ken has worked internationally throughout his 25-year career including leading the delivery of major programmes across multiple sectors in Europe, Asia, North America, and the Middle East region.
Originally from Ireland, Ken has lived and worked in Germany, Indonesia, Qatar, Egypt and the US. He is married and has three daughter
Azad has more than 25 years' international experience in the construction, energy, management consulting, mining services and private equity sectors. He joined Wood in 2011 and led the APAC subsea field developments, deep water engineering and asset integrity divisions before moving into the growth & development function.
Most recently, he served as President of Growth and Development for Wood's Consulting business where he was responsible for development and implementation of growth strategies, and business planning globally.
Azad has a Bachelor's degree (Hons) in civil and structural engineering and an MBA from the University of Western Australia.
Craig is Executive President of Operations at Wood, a role he assumed in July 2022, giving him executive responsibility for 15,000 talented people and their delivery of market-leading operations solutions in a broad range of sectors across the globe.
With three decades of experience garnered in the pharmaceuticals, oil, gas and broader energy industries, Craig is a seasoned and proven project and operational leader. In his 18 years at Wood, and in his former role as President of Operations for Europe, Middle East and Africa (EMEA), Craig's focus has been on delivering business growth and increased quality of earnings through innovative client and supplier partnerships, end market diversification, and an empowered and motivated workforce.
Craig is passionate about dialling up the dialogue on the issues of diversity and inclusion, aiming to drive meaningful action and change, having formally chaired Offshore Energies UK's Diversity and Inclusion Task Group, as well as in his role as a member of the Energy Leaders Coalition. In addition, Craig is a chartered engineer and a fellow of the Institution of Chemical Engineers, a fellow of the Energy Institute and has also been appointed to the Advisory Board of AFBE UK, the Association for Black and Minority Ethnic Engineers.