Our values set the tone
Everyone has the right to a safe, healthy and secure workplace. Our values set the tone for what is most important to our business, the safety of our people and those we impact.
Safe and secure operations
Strong leadership is essential to protect the safety and security of our people, contractors, clients and communities. Good management of safety and security risks translates into an engaged, motivated and productive workforce, ensuring everyone returns home safe and healthy at the end of each working day.
As an enabler to the advancement of sustainable development, we believe safety and security is fundamental to the success of our business, the protection of human rights and community development.
How is this fundemental to our business
Wood works in some of the most hostile environments in the world. From wetlands to deserts, over and under the seas, in remote and isolated locations, and countries suffering political instability.
As a diverse service provider, people are our greatest, and most valuable asset. Wood is committed to investing in strong leadership on safety and security to ensure we continue to deliver our operations safely in line with international standards.
Our ability to deliver our HSSE (Health, Safety, Security and Environment) objectives and policy commitments through our HSSE management system can be impacted, either positively or negatively, by a range of internal and external factors. These factors include our organisation, our workforce and our stakeholders. A range of organisational factors have the potential to impact our HSSE performance and HSSE management system, for example, through our own culture and cultural and legal differences between countries.
Proactively engaging our workers on HSSE matters that affect them, ensures we continue to understand their needs and expectations, to continually evolve our HSSE management system. Similarly, our efforts to understand our stakeholders (a person or organisation) and their needs, ensures we remain aware of our impacts, help to build trust as a partner of choice and demonstrate our commitment to care for the people and places we impact.
Our HSSE approach is designed to help us on our journey towards HSSE excellence. We plan for success, through understanding and managing our risks, continuous inspiring leadership who engage with our work teams and the systematic implementation of effective HSSE systems and practices.
Wood's HSSE management system is informed by two primary sources, our Code of Conduct and our HSSE Policy. The HSSE management system provides the framework through which Wood delivers sustainable excellence against our promises. The HSSE Policy is underpinned by our HSSE Management Framework, known as the Blue Book. The Blue Book and supporting guidance and tools, provides a framework for how we must lead, plan and organise ourselves as a business to ensure HSSE risks are controlled, and to deliver continuous improvement in our HSSE performance.
Wood's management systems conform to ISO standards that are certified through Lloyds Registry, where there is a clear business case for doing so. ISO certifications across Wood have been consolidated from 17 historic service providers to a single global provider for ISO 14001, 9001 and 45001 accreditations. This work has enabled Wood to benefit from a >55% reduction in assessment days and $2m savings across the management system assessment cycle. As of the end of 2021, formal certification through Lloyds Registry coverage was as follows:
Table of ISO Certs coverage
| Standard | Headcount | Locations | % Coverage |
| --- | --- | --- | --- |
| ISO 14001 | 9989 | 54 | 25 |
| ISO 45001 | 13056 | 63 | 33 |

To accompany our management system, unique to Wood, our Shield – a metaphor for protection – combines our HSSE processes and procedures into one standard that is simple, understandable across countries and cultures and provides consistent messaging to our workforce around HSSE.
In addition to this, Wood has adopted the IOGP (International Association of Oil and Gas Producers) simplified set of Life Saving Rules to provide workers in our global business with the actions to take to protect themselves and their colleagues from hazards in critical risk areas. The Life Saving Rules are an integral part of our Safety Shield; a universal metaphor for protection, which pulls together our HSSE processes and procedures. Everyone is responsible for 'raising up the shield'.
Read here for further information on our Safety Shield and Life Saving Rules.
Our Commitment
Annually, as part of our annual improvement plans, we seek to establish both leading and lagging key performance indicators (KPIs), in 2021 our focus included:
10% improvement in Total Recordable Incident Rate (TRIR) compared to the prior year
DuPont Sustainable Solutions – Engagement to undertake targeted assessment of three business groups in our organisation
Leadership engagement events focused on safety visits by senior managers
Details on our health and safety performance data can be found on our data and reporting page and ESG data sheet. In addition, more detail on our annual performance can be found in Wood's Annual Report and Accounts.
Related links:
Commitment to Safety
Ensuring the safety and security of our teams is at the heart of everything we do, and we remain steadfastly committed to providing a safe workplace for all. Our global approach to HSSE management is aligned with 14001, 18001, 45001 and plan-do-check-act cycle. Compliance with our HSSE management system is mandatory throughout Wood, creating a consistent approach to how we manage safety and security.
The Blue Book Standard consists of 15 elements that are the essential components of an effective management system. The elements align with recognised international HSSE management standards and the continuous improvement cycle of Plan-Do-Check-Act. Each element comprises a number of clauses which state the standard to be achieved. The Blue Book Standard does not sit in isolation. It is supported by other Wood HSSE standards, procedures, guidance and tools. A web-based Blue Book Self-Assessment Tool is used to assess compliance with the standards and aid improvement against a maturity scale.
To view our most recent Safety and security performance, please refer to our ESG data sheet.
Building a continuous improvement culture
Continually improving the safety and security of our operations forms part of Wood's long term business strategy. We recognise building a continuous improvement culture is a journey driven by our leaders and made possible through a risk-based analysis of performance across all Wood's operations.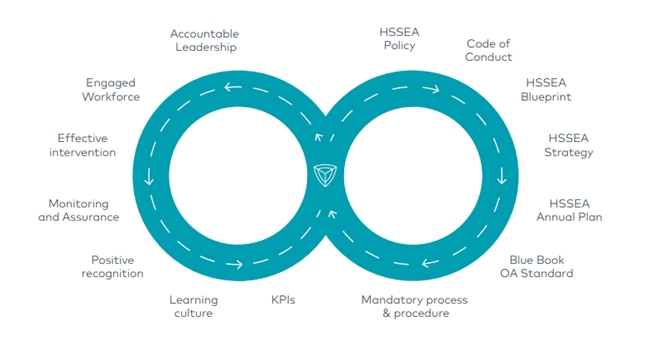 Assurance is key to any management system and we know that to create an environment that enables great performance, we must provide the tools and guidance to empower our business to deliver with confidence. With a proven global methodology and scalable framework of 12 Assurance Absolutes, the Operations Assurance standard enables teams to set, deliver and audit performance in technical, HSSE and quality, from project opportunity through to winning and delivering work for clients.
Tackling Technical Safety
Our approach to technical safety aims to prevent major incidents through the proper control of hazards, risks and environmental impacts related to systems, equipment and facilities serviced by the Wood business. These services included studies, surveys, design, procurement, construction, commissioning, operations, maintenance and decommissioning at any stage of a facility's lifecycle from concept to decommissioning.
We have set out this approach in a Technical Safety Standard which places a focus on 4 safety focus areas (SFAs):
Safety through Management
Safety by Design
Safety at Site
Safety through Assurance
Each SFA is comprised of several elements in which requirements for major incident prevention are outlined. In addition, the standard shares many synergies with Wood's HSSES Management System Standard in areas of leadership and incident management amongst others dealing with Risk and Assurance.
Security Resilience
Wood operates in several countries with complex and challenging security risk environments. Group Security, part of Group HSSE, has a focus on improving the Company's resilience from a security perspective, including looking at strategic risk and the security risk mitigation requirements for any activities in areas where crime, terrorism or political instability are a concern. The aim is to enable the business to operate safely all over the world by focusing on four areas that are key to ensuring resilience.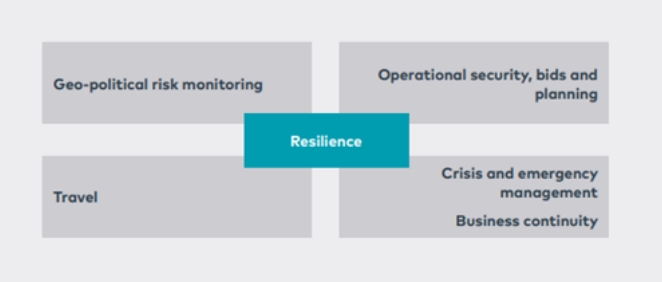 Restructured in 2021 to a regional organisational model, Group Security continues to digitise its operations to increase the efficiency and effectiveness of the function. Supported on data and analytics through an external provider, the function is further supported by International SOS to provide global physical, medical and security support to Wood employees travelling on business.
Wood monitors its operational security risks through the application of a Security Risk Assessment Methodology, which has improved the consistency and standards of security at project sites globally. In addition, security considerations are now formally included in our bid processes meaning that security risks and mitigations are considered earlier in the tender process.
Crisis Management
Crisis and incident management is crucial to Wood's ability to plan and respond to risks at strategic, operational and tactical levels. Wood's Crisis and Emergency Management Standard ensures that crisis, incident, and emergency situations are anticipated and prepared for to secure Wood's people, environment, assets, reputation and stakeholders.
In 2021, Wood's crisis and incident management teams remained convened throughout the year to manage the continuing challenges of the pandemic, including vaccination and return to the workplace policy implementation. In addition, to improve resilience at project, office and site level across the Company, a new emergency management standard was released at the start of the year with a focus throughout the remainder of the year on embedding the standard and ensuring its application throughout the business.
Sustainability navigation