There is tremendous interest and movement towards the more resilient, sustainable production of electricity worldwide. For the energy transition to progress and meet net-zero achievements, it is critical for our electricity to come from sources that produce little to no emissions.
In recent years, the spotlight has been strongly focused on solar and wind generation for renewable energy, but there's an established method that has been producing low emission energy for centuries flying quietly under the radar.
Hydroelectricity is often called the original renewable energy source. A mix of renewable power sources are vital to secure reduced global emissions, so where does hydroelectricity fit in the energy transition?
Renewable energy 1.0
Hydroelectric power is the world's oldest form of renewable energy, tracing its origins back to grinding grain for food production. Hydroelectric facilities are built downstream from major bodies of water and use the power of the moving water to produce electricity. Once a hydroelectric facility is built, it produces no direct waste and generally has no output of greenhouse gas emissions.
Over the last two centuries, hydroelectric facilities have been constructed around the world, providing critical power to communities and industries.
Power made possible
According to the Department of Energy, hydroelectricity currently provides approximately 40% of utility-scale renewable energy generation and nearly 10% of all electricity generation in the United States, and 17% globally.
Baseload grid generation optimising energy transition
Hydroelectric facilities provide affordable clean energy and are flexible when connecting to the grid with a quick start-up time. Facilities can go from zero to maximum power in a matter of minutes making it ideal for responding to sudden changes in the demand for electricity and a reliable back-up power source for planned and emergency electricity disruptions. This is especially advantageous for current and future decarbonisation efforts as facilities can alleviate power fluctuations from grids transitioning away from fossil fuels towards other renewable sources.
Dams and structures have long lifespans and typically require minimal maintenance compared to other energy producing assets, keeping operational expenses low. The technology and design of these structures has been established for over a century, minimising surprises and allowing facilities to be improved with marginal environmental impacts.
The world's largest batteries
Hydroelectric facilities enhance their position in a decarbonised environment by leveraging energy storage capabilities in the form of pumped hydroelectric storage. Pumped storage works by pumping water to a reservoir at a higher elevation from the dam during times of low electricity demand and low prices, or when excess power from renewables like solar and wind must be curtailed during times of peak sunlight and wind. When demand and prices for electricity increase, or when production from solar and wind decrease, the water flows down from the reservoir and powers the turbines, increasing the electricity supply and decreasing the demand and price. The ability to use these reservoirs for load balancing and power storage essentially makes pumped storage the world's largest electricity batteries.
Pumped storage plants have been built for decades and are the largest source of electricity storage used in the United States both in terms of capacity and number of plants. Countries around the world continue to take advantage of their ability to use hydroelectricity by building additional facilities and maintaining existing infrastructure.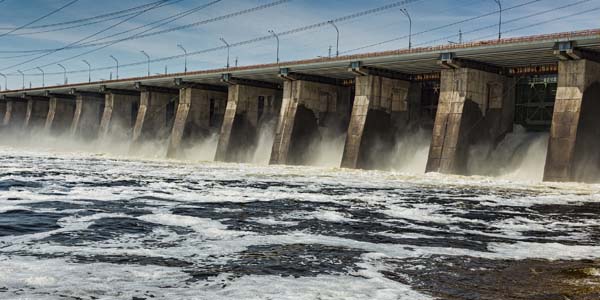 Investment upgrades
Numerous hydroelectric structures across the United States and globally are aging past their original intended lifespan and require maintenance and repairs to keep these amenities functioning.
Wood intimately understands these critical assets, having supported hydroelectric plants and pumped storage facilities for decades from new build projects, everyday maintenance and operations to fully-fledged life extension scopes.
Improvements and modifications present unique challenges, as these facilities are often more than 50 to 75 years old, were designed and constructed under vastly different historical codes, and require careful repair to extend their typical life. The modifications include structural improvements to extend operable ability as well as power generation upgrades to take advantage of significantly more efficient power production technology.
In the United States, these assets are regulated by the Federal Energy Regulatory Commission (FERC) and have very specific demands to meet and maintain regulatory compliance. Our teams including environmental services, permitting, structural and geotechnical engineering, hydraulic and stormwater modelling and repair design all play a part in this crucial life extension, while meeting FERC requirements.
Keeping the assets running during execution
Our experts determine the safest and best economic approach for life extension and work to maintain plant operability during execution.
No such thing as a tight fit
Our engineers go where no drone has gone before, using ropes to perform detailed structural assessments and cost inspections in hard to access areas. Wood's difficult access teams are Society of Professional Rope Access Technician certified.
Demonstrated bench strength with top tools
Wood's nation-wide subject matter experts are experienced with supporting 100+ year old assets. The drone and survey team specialises in LiDAR tools to provide a 3D resolution model to assist with planning for current and future phases. Our team of geophysical investigators effectively respond to emergency and non-emergency field investigations.
Journey to net-zero
Hydroelectric and pumped storage structures play a critical role in the journey to net-zero. Though not as often discussed as wind and solar, hydroelectricity's reliability and long asset life is crucial for the world's current and future renewable energy supply. Supporting and optimising these assets will play a key part of the energy transition, creating a more resilient world and providing a better future for all.
Wood working in partnership
Wood is proud to be part of the United Nation's Global Goals Business Avengers, supporting Sustainable Development Goal #7 for Affordable and Clean Energy to accelerate progress towards a more sustainable, livable world. It aligns with our strategy and the unstoppable momentum we see towards delivering a healthier, cleaner planet underpinned by low-carbon energy systems.
Be in the know
Get in touch
United by our common purpose to unlock solutions to the world's most critical challenges, we are future ready, now.
Subscribe
to one of our news updates