In July 2019, the UK government revised its Climate Change Act (2008) to mandate net-zero greenhouse gas (GHG) emissions by 2050. This ambitious target will effectively require sweeping changes across the whole of the UK's energy system and means that the UK needs a full range of robust and cost-effective, zero-GHG energy system technologies, covering electricity generation, heat, transport and agriculture to be implemented.
Why decarbonise freight transportation?
Decarbonisation of freight will play a vital role in reaching these objectives, with a zero-emissions alternative to the traditional diesel-powered heavy goods vehicle (HGV) being critical if the UK is to achieve its net-zero carbon ambition. Land-based freight is an essential service sector, vital to prosperity; however, it is also a significant source of GHG and noxious emissions.
Transport accounts for around a quarter of UK greenhouse gas emissions, of which over 90% is from road transportation. HGVs account for around one-fifth of that figure (Transport and Environment Statistics: 2021 Annual Report).
According to Department for Transport (DfT) statistics, even during the Covid pandemic in 2020, 136 billion tonne km of goods were moved on the UK's roads by GB-registered HGVs (Domestic Road Freight Statistics, UK 2020).
A range of potential approaches
So how can we reduce the carbon impact of this critical part of the economy? In July 2020 the Centre for Sustainable Road Freight (SRF), founded to help industry and Government minimise carbon emissions from the road freight sector, published its 'Decarbonising the UK's Long-Haul Road Freight at Minimum Economic Cost' whitepaper. The aim was to look into a range of technologies with potential to assist in decarbonising freight. These technologies included large-battery electric vehicles, hydrogen fuel cell vehicles, biofuels, synthetic fuels and Electric Road Systems (ERS).
Another possible route to freight decarbonisation would be switching freight to electrified rail transport which has many benefits and should be facilitated by government plans to fill in gaps in the rail electrification network so that more fully electric freight routes are possible. However, given that 80% of freight miles are currently transported by HGV, it seems highly probable that there will be a substantial continuing requirement for zero carbon road-based freight transport.
The conclusion reached in the SRF whitepaper was that ERS is the lowest carbon and energy route for road vehicles, and the most practical solution for long-haul road freight in the UK and Europe. The whitepaper presents the case for a nationwide rollout of ERS through the 2030s, estimating that a total investment in the region of £19.3 billion would allow the electrification of 65% of the UK road freight movements. The remaining 35% of freight movements are mainly urban deliveries that are largely expected to shift to battery electric vehicles over the next 10 years.
What are Electric Road Systems?
There are several forms of ERS including conductive (physical connection between the vehicles and the infrastructure for power transfer) and inductive (couple magnetic field connection) systems.
The most mature and cost-effective technology is the overhead catenary system which is a commonplace technology in the railway sector and consists of a supporting structure built outside the road boundary that holds two catenary cable systems supplying a positive and negative electrical circuit picked up through a pantograph collector on the roof of the HGV.
The pantograph can be connected and disconnected as needed, with HGVs having the freedom to leave the wires to overtake or continue their journey using a separate on-board battery.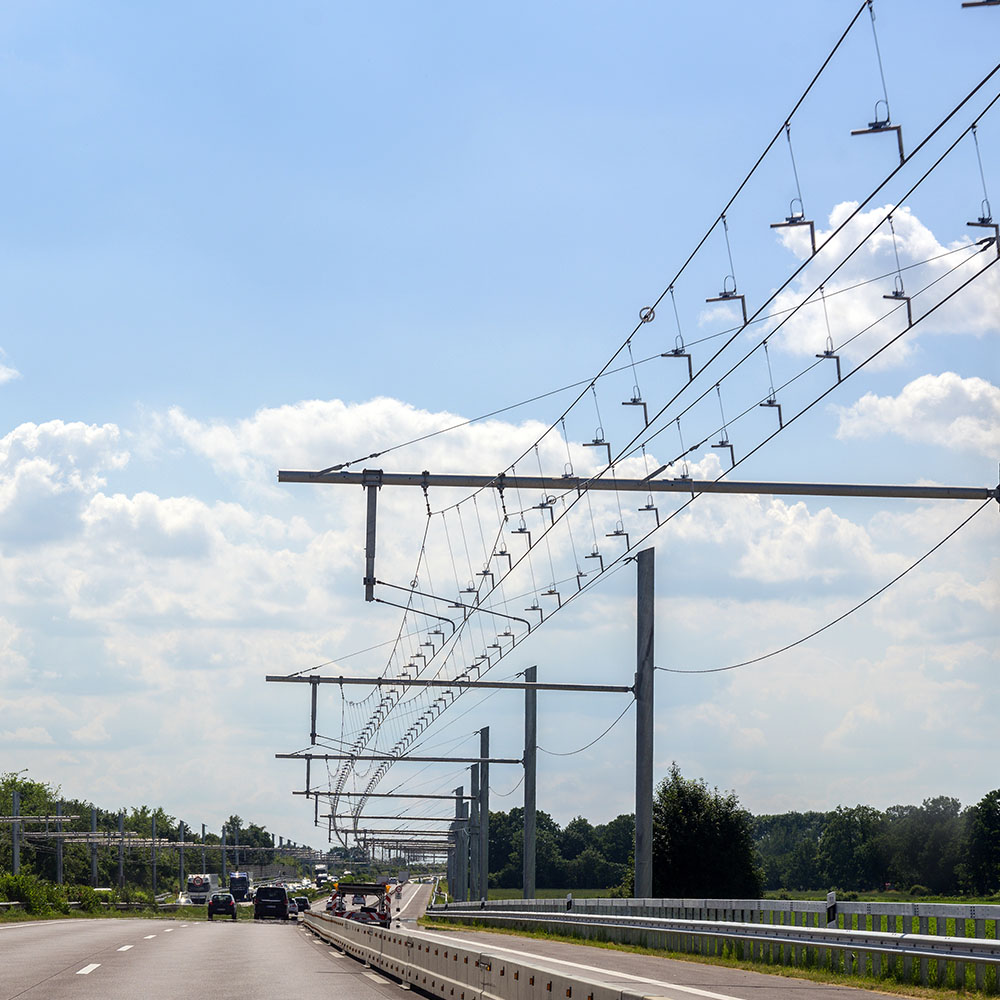 UK ERS trials
Wood transportation experts are currently involved in the Catenary Cable System Demonstrator Feasibility Study, as part of the £20 million UK Government Department for Transport funding boost to accelerate the rollout of zero-emission road freight, being delivered by Innovate UK. The consortium (City Science, Wood, Oxfordshire County Council, Furrer + Frey GB and the University of Exeter) will examine the feasibility for an ERS demonstrator on appropriate sections of trunk roads and/or motorways in Oxfordshire. Wood is leading on the highway design element of the study with wider inputs on the economic and regulatory assessment, working closely with DfT and National Highways.
The study will conclude in March 2022 with a view to start the trials in 2025 and potential wider rollout in 2026. Several challenges and potential constraints will need to be considered and solutions developed before the demonstrator study can be deemed to be feasible, including necessary regulatory changes, finding the most appropriate planning consent route and overcoming challenges around the potential environmental impact, impact on the existing utilities and most importantly, safety. The availability of the energy supply will also be one of the main considerations. One of the first significant tasks is site selection and filtering to ensure that the selected road segments for the demonstrator study are free of major constraints (such as large junctions or bridge structures), but at the same time do not fail to address the issues which would likely be encountered with a wider rollout in the future.
What will the future of freight look like?
ERS is unlikely to provide the one and only solution to the decarbonisation of freight transportation. It will need to work in conjunction with other technologies, in particular with electric power obtained from onboard batteries, to allow for travel between the electrified sections of roads, and for urban operations. A full electrification of the UK road system would not be possible due to a number of constraints and would not be necessary for the zero-emission electric HGVs to become a reality.
There are also several potential opportunities for combining the rollout of the ERS infrastructure with other road infrastructure projects including Intelligent Transport Systems (ITS), connected and autonomous vehicles and 5G, making it more financially viable and as a result providing the UK with a wider world-class digital transport environment.
As the world seeks more sustainable transportation options, exploring the potential for ERS is just one of the ways Wood is working to engineer smarter mobility solutions, as we continue to harness new technologies and equip transport operators and developers to help shape a brighter future. Find out more about our work and connect with our experts here.
Be in the know
Get in touch
United by our common purpose to unlock solutions to the world's most critical challenges, we are future ready, now.
Subscribe
to one of our news updates