Streamlining methane inspection
The Iris Edge platform combination of expert technology, trusted sensors, and tailored deployment hardware streamlines methane inspection compliance, helps you eliminate penalties quickly and accelerates your decarbonisation strategy.
Unmatched methane localisation and quantification
Iris Edge is your key to incremental revenue at a labour-efficient cost, providing fully autonomous data analysis, auditable results for reporting certification and unmatched methane localisation and quantification.
Our software is the fastest on the market, cheaper than current alternatives and the most precise globally available with the ability to drill down to the detail.
Accurate
Most precise tool on the market - precise analysis and mapping pinpoints - able to drill down to the detail - locating the exact location of methane leaks.
Meets all US legislative requirements.
Determines the true extent of methane penalty exposure.
Demonstrates ongoing commitment to decarbonisation.
Efficient
The data you need for timely, informed decision-making.
Fastest on the market - able to detect and identify a repair in 24 hrs.
Doesn't require certified professionals to carry out the work, team members can continue with their day, providing a discreet service that is embedded within our operations.
Effective
Routine mapping quantifies reductions delivered through abatement.
Multiple deployment options.
Most cost-effective option on the market.
The challenge
The landmark US Inflation Reduction Act (IRA) and other global policies directs government spending toward reducing carbon emissions putting methane emissions firmly at the top of the energy industry's agenda.
What this means for the operators of oil and gas assets is much stricter fines and penalties for methane leaks depending on the size of your assets, these fines could be into the billions.
A low-cost solution
No need for trained technicians
On-field personnel perform inspections without the this enables seamless integration into routine duties and 'fit-for-purpose' deployments across different platforms.
This exponentially decreases costs and allows technicians to perform inspections quickly and efficiently resulting in optimised operations and improved productivity.
Seamlessly integrating into existing operations
We provide easy integration and customisation to meet your facility's unique needs. As the software can effectively operate as a handheld device and on any robot or drone on the market.
We have successfully detected, quantified, and reported fugitive emissions in 9 natural gas facilities.
Iris Edge is cost-effective in comparison to traditional tools:
Up to 90% saving on hardware
Up to 80% labour cost savings utilising on-site personnel
Up to 85% saving per inspection
Iris Edge is able to locate the exact location of methane leaks utilising 3D visualisation software.
undefined
Case study
Iris Edge pilot study
Wood saves clients millions in estimated Inflation Reduction Act (IRA) penalties with the latest in 3D sensor methane mapping technology.test1
Explore
Fully autonomous data analysis
Autonomous methane emissions localisation and quantification with unparalleled accuracy
Analysis is carried out immediately and without need for operator intervention.
Flange-level accuracy
The software uses physics-based methane emission measurements with wind speed factored into the analysis.
No more 'searching for a needle in a haystack.'
There is no need for human review so saving time and cost while providing superior localisation
100% accuracy in detecting fugitive emissions.
Our technology has been verified at the Lawrence Berkeley National Lab and tested at the DOE-sponsored METEC Center and the Canadian government-sponsored Alberta Methane Emissions Project.
Unmatched methane localisation and quantification
Emissions are documented as 3D models with localised anomalies the methane concentration is then quantified as PPM and the methane flow rate is derived from dispersion models. Additionally, wind speed is factored into the analysis.
We have helped nine facilities save over 156 tons of methane in 2022.
Precise measurements enable effective monitoring and control of fugitive emissions and auditable documentation allows for clean gas certification.
Auditable results for reporting and certification
Instant alerts of methane emission detection
Enhance your revenue through transparent, compliant, and certifiable documentation of your operations, with a live dashboard with methane intensity levels and inspection results.
The system contains digital records of current and past inspections with analysis and leak and repair tracking on a map which allows you to monitor and manage your methane emissions proactively.
MiQ clean gas certification
The system presents unbiased data and analysis for transparent process audits supported in a transparent and auditable manner.
Avoid high penalties and monetise your operations via methane performance credits.
See how you can implement Iris Edge
Click the button below, and one of our consultants will get back to you shortly.
undefined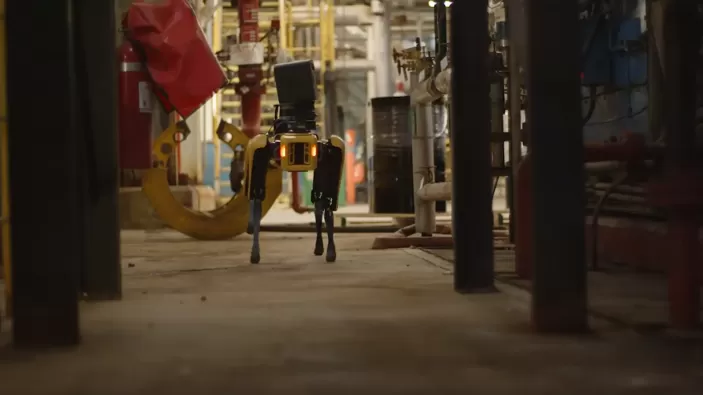 Case study
Wood cuts methane emissions on platform with new technology - Iris Edge
Iris Edge is the worlds fastest and most accurate methane deection tool using colour coded methane intensity software and 3D models helps our clients elminiate penalties quickly in under 24 hours from detection to repair. We are helping our cleints deliver effective carbon management solutions to support a net zero future.test1
Explore
Wood has been optimising equipment maintenance and reliability of asset-intensive industries for 25+ years.
We have a rich history of innovation and first-principles understanding, having pioneered the field of equipment condition monitoring, working closely with clients and our partners in building sensing hardware and predictive maintenance software to troubleshoot and resolve critical equipment problems.
A recent example has seen our teams co-design our client's wireless vibration sensors, capable of high integration, accurate measurement, and data acquisition rates of 1-15 mins and co-deployed these sensors to 20 of 2,000 fin fans at one of their LNG sites. Our contribution accelerated development and deployments by ~2 years.
Based on extensive client knowledge and 10+years of operational data, we created and deployed explainable artificial intelligence models to production within four months.
We created a wireless sensor strategy assessment framework, capable of rapidly qualifying market sensors and building and developing an integrated architecture.
We have convinced our client's chief engineers to trust our transparent sensing analytics approach and architecture across all seven existing and new assets.
Human + machine: combining domain expertise with data-driven models
Technology-enabled, independent engineers: combining domain expertise with data-driven models
Global leaders: in our disciplines, based on decades of experience
Superior in our capability offering: full complement of in-house expert knowledge and experience
Problem solvers: combination of desktop simulation and field experts for optimum solution development
First-class in our service: in-house software tools, resulting in improved accuracy, faster service and lower costs
Thought leaders: based on our strong commitment to research, innovation and knowledge sharing in the industry
Consistent in our delivery: standard processes and quality control for inspections, simulations and risk evaluation
Innovating
Data and analytics trends indicate that industry is increasingly using data fabric approaches to help address complexity and scale their data assets (Gartner, 2021). Data-driven models are only scratching the surface of what is possible.
Backed by Wood and innovation funding, our team is always pushing to find better, faster and more robust solutions. With the ability to build specialised teams from over 40,000 experts in 60 countries, our solutions have no boundaries.